By Content Editor
20 November 2021, 12:19 | 28 August 2021, 13:29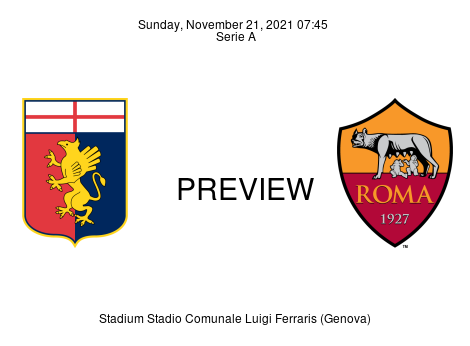 Genoa C.F.C. vs. AS Roma kicks off at 20:45 (GMT+1) on Sunday, November 21, at the Stadio Luigi Ferraris.
Preview Genoa Serie A, Nov 21, 2021
Preview Andriy Shevchenko will be making his Serie A coaching debut when he goes head-to-head with his former coach, José Mourinho, [during his spell at Chelsea in the mid-2000's] on Sunday. The 45-year-old put pen to paper to become Genoa's new boss in a deal which would keep him at the helm until 2024, following the sacking of Davide Ballardini. The latter was axed after the 2-2 draw against Empoli at the Stadio Carlo Castellani just before the recently concluded World Cup qualifying round of fixtures. With just one victory in twelve Serie A appearances (1W, 6D, & 5L), the new American owners wielded the big stick in a bid to see Genoa maintain its Serie A status at the end of the season. Kicking off this new adventure to bring back Genoa to its great history, the 2004 Ballon d'Or winner, Shevchenko, wrote on Twitter right after his appointment was confirmed. Without a win in five Serie A games, DLDDD, Shevchenko finds himself up against the wall on his first day on the job as he looks to outwit 21 years of experience in the coaching seat, bundled together in the shape of the Special One. Genoa sits just above the bottom three, by goal difference, in 17th place, while having 9 points. Onlookers will be watching closely to see what pattern Shevchenko chooses for his coaching debut with the club.
Preview Roma Serie A, Nov 21, 2021
Preview Meanwhile, the Special One returns with the Giallorossi while having back-to-back defeats, LDWLL, following the 3-2 loss to Venezia at the Stadio Pier Luigi Penzo. Goals from Roma's Shomurodov (43') and Tammy Abraham (45'+2) were not good enough to pick up even a point, despite Roma having a 2-1 lead at half-time. The loss saw José Mourinho's side slip further down the table, from 4th to 6th place. And as usual, just like every other defeat, the Special One had his suspicions about the man in the middle. I need to be careful, so I'll keep my thoughts to myself because I don't want to say what I think is happening, Jose Mourinho said right after the game. With a total of 19 points from 6W, 1D, & 5L, the Special One will be desperate for a win to see the gap between his side and the early pace setters reduced. A 3—4—1—2, with Tammy Abraham and Shomurodov forming the attacking duo is expected. Chris Smalling is ruled out alongside Matías Viña while Riccardo Calafiori is expected back at the end of the month.