By Content Editor
14 September 2021, 07:30 | 28 August 2021, 13:29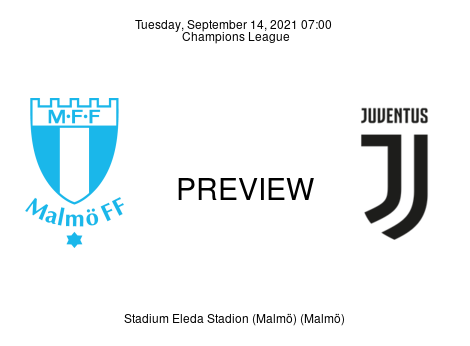 The UEFA Champions League Group H fixture, Malmö FF vs. Juventus, kicks off at 20:00 (GMT+1) on Tuesday, September 14 at the Eleda Stadion.
Preview Malmö FF Champions League, Sep 14, 2021
Preview After making a debut entry in the 1964/65 season, Malmö FF will begin their 18th UEFA Champions League campaign with Saturday's 1-1 draw against IFK Norrköping in the Swedish domestic league behind them. They sit in 2nd place in the league and make their entrance into this contest of champions, having a form that reads: WWLLD across all competitions. Jon Dahl Tomasson was part of the Milan squad that defeated Juventus in the UEFA Champions League Final in 2003. On Tuesday, he will attempt to pick up another victory over the Old Lady, this time around, from the managerial seat as coach of Malmö FF. However, he could settle for a point, knowing that a victory over the two-time UEFA Champions League winner would be a tall order. A 3—4—3 formation with the center-forward of choice, Antonio Colak, playing through the middle is expected. The 27-year-old Croatian remains the club's top scorer with 8 goals in the Allsvenskan. He was instrumental in Malmö's UCL qualification, - bagging 5 goals in 8 appearances for the club in the qualifying round, and participating in 38% of all episodes that led to a goal for the club throughout its length. On availability, attacking midfielder Sergio Peña remains in doubt with a calf injury. Looking ahead, Malmö will take on F.C. Zenith at the Krestovsky Stadium on UEFA Champions League Matchday 2, Sept. 29.
Preview Juventus Champions League, Sep 14, 2021
Preview Meanwhile, Massimiliano Allegri will be making his second UEFA Champions League debut with Juventus on Tuesday when the club takes on Malmö FF. After reaching two finals with the Old Lady by his side, in 2015 and 2017, Allegri returned to re-write the love story with the club after earning himself a second shot at the helm. An impressive haul of 11 trophies, which included five consecutive Serie A titles, couldn't save the 54-year-old from the axe. He was eventually dismissed solely for his failure to deliver the big ears to Juve's trophy cabinet. Now, he will attempt to achieve his long-awaited European success with the club. However, it doesn't appear to be going well for Allegri in Serie A. Having lost to Napoli on Saturday, 2-1, Juventus dropped to 16th place on the Serie A table and remain without a win in three league games. The club returns with a form that reads: LWDLL across all competitions. Allegri has a plethora of options at his disposal against Malmö, but a 4—3—3 formation with Morata playing through the middle of the attacking trio could be the selection. Dejan Kulusevski and Dybala are both expected to form part of the attack. On availability, Juventus will be without Arthur for the trip to the Eleda Stadion while Adrien Rabiot remains in doubt for this fixture. On UEFA Champions League Matchday 2, Sept. 29, Juventus will host Chelsea F.C. at the Juventus Stadium.