By Content Editor
01 October 2021, 08:29 | 28 August 2021, 13:29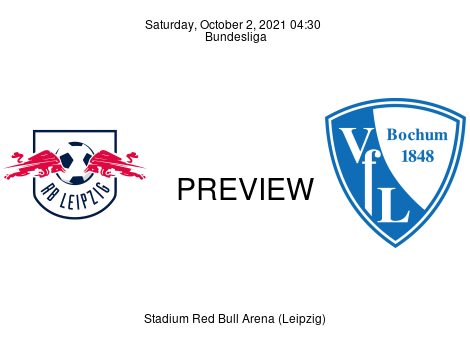 The German Bundesliga fixture, RB Leipzig vs. VfL Bochum 1848, kicks off at 17:30 (GMT+1) on Saturday, October 2, at the Red Bull Arena, Leipzig.
Preview RB Leipzig Bundesliga, Oct 2, 2021
Preview RB Leipzig picked up a 2-1 loss to Club Brugge in Tuesday's UEFA Champions League fixture on home soil. They were the winners last weekend, having picked Hertha Berlin to pieces in a 6-0 win at the Red Bull Arena, Leipzig. The comfortable win leaves the Red Bulls in 10th with 7 points after six games: 2W, 1D & 3L. Leipzig have 12 goals but conceded 7 and hence have a G.D. of +5. After the comfortable win on Matchday 6, Jesse Marsch hopes for a steady climb up the Bundesliga table with the repeat of a similar feat against VfL Bochum on Saturday. The 47-year-old could line up the 3—4—2—1 formation with Poulsen in attack. Matchday 6's Man-of-the-Matchday, Nkunku, who scored Leipzig's only goal against Brugge on Tuesday is expected behind the forward, alongside Forsberg. Nkunku picked up a brace in the game against Hertha Berlin (16' & 70') and added an assist to his tally. Enjoying the new style of play under the direction of Marsch, the French forward aims to extend his goal-scoring form. I've always been a really quick player and that comes more to the fore in our new playing style, he said in an interview with Germany's Bild newspaper. Halstenberg (ankle), Olmo (thigh), and Saracchi (knee) are all ruled out for this fixture against Bochum.
Preview VfL Bochum 1848 Bundesliga, Oct 2, 2021
Preview Bochum picked up a goalless draw against VfL Stuttgart last weekend at the Vonovia Ruhrstadion. Die Unabsteigbaren were unable to find a way through despite taking 15 shots with 4 on target while having 43% of the ball and putting together 344 delicate passes. It was an acceptable result after the 7-0 pounding by the Bundesliga champions, Bayern Munich, on Matchday 5. However, the draw leaves Bochum in troubled waters, in 17th place on the Bundesliga table, having picked up 4 points from 1W, 1D, & 4L. The club has only one victory in the last five games: WLLLD. Having netted a total of 4 goals in six Bundesliga games, Bochum has an average of 0.67 goals scored per game. Loose at the back, the club has conceded 13 goals (an average of 2.17 goals-conceded-per-match), the third-highest in the league, which leaves Bochum with a G.D. of -9. A draw will be on Thomas Reis' mind on Saturday when he lines up a probable 4—2—3—1 formation with Potter ahead of a midfield trio once again. Gamboa (elbow), Leitsch (thigh), and Zoller (knee) are all on the injury list and remain ruled out for this fixture against Leipzig.