By Content Editor
30 September 2021, 15:10 | 28 August 2021, 13:29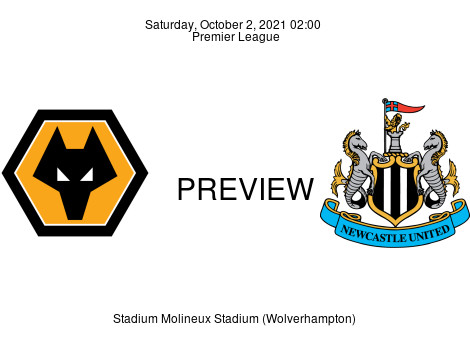 The English Premier League, Wolverhampton Wanderers vs. Newcastle United, kicks off at 15:00 (GMT+1) on Saturday, October 2, at Molineux Stadium. Referee Graham Scott will be in charge while working with assistants: Richard West and Mark Scholes. Meanwhile, Andre Marriner will monitor the screens in the VAR room.
Preview Wolverhampton Wanderers Premier League, Oct 2, 2021
Preview Wolves defeated Southampton by a solitary goal at Saint Mary's Stadium on Matchday 6. Shot-stopper, Southampton's Alex McCarthy produced a fine stop to deny Nélson Semedo what would have been a goal for the visitors in the first-minute. Minutes later, Redmond thought he had Southampton in front, but his celebrations were nipped in the bud and in resonance with the flag. Minutes after the break, José Sá kept the ball out, and his side in contention for at least a point, before advancing his candidacy for man-of-the-match with a double save, although the flag was up for the second attempt. But a more suitable candidate would emerge in the shape of Raul Jimenez. Jimenez (61') had got on to the end of a lofted pass from his own half, held off a striped shirt before sitting another on his back side, and then repeating the trickery to clear the path for the shot past McCarthy. His first, and a contender for goal-of-the season. The victory left Wolves with the form: LLWLW, and moved the club to 14th place, having picked up 6 points after 2W, 0D, & 4L. With only 0.5 goals per game, Wolves have only 3 goals in six Premier League appearances. On goals conceded, Wolves have 5 (0.83 goals conceded-per-game), and a G.D. of -2. Happy with the win, Bruno Lage will deploy the defensive 5—4—1 formation with Jimenez in attack once again on Saturday. Jimenez's last goal on home soil in the Premier League came against Newcastle, a year ago in October 2020. The 30-year-old will be on the hunt to bring back memorable moments with another goal against the Magpies this weekend. A plague of knee injuries will keep Pedro Neto and Jonny Otto out of this game, while Bruno Jordão and Oskar Buur remain in doubt for this fixture. The club recently signed the Muslim athletes' charter. We welcome the opportunity to gain a greater understanding of the needs of Muslim players, staff, and fans alike, Wolves human resources director, Zoe Brough, said.
Preview Newcastle United Premier League, Oct 2, 2021
Preview Without a win, Newcastle United are in 17th place on the Premier League table, having picked up 3 points from 0W, 3D, & 3L, with the last five coming in the order: LDLDD. On Matchday 6, Newcastle picked up a 1-1 draw against Watford to stay above the bottom three. Having 7 goals after six Premier League games, the club is left with an average of 1.17 goals scored per game. The Magpies have conceded 14 goals and have a G.D. of -7 while having an average of 2.33 goals-conceded-per-match. Steve Bruce could re-emerge with the 4—2—3—1 formation with Allan Saint-Maximin at the top of the design. The 24-year-old has 2 goals, 3 assists and a 71% goal participation with the club this season in the Premier League.