By Content Editor
24 December 2021, 16:32 | 28 August 2021, 15:29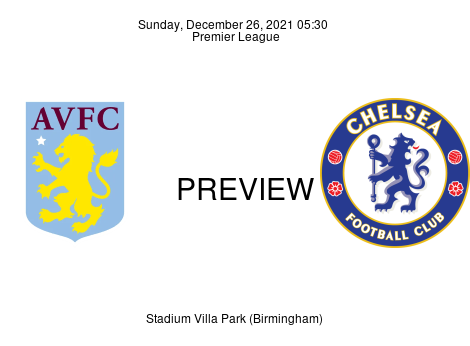 The Lions take on the Blues on Boxing Day, hoping to unwrap three points and move into the top-ten. Aston Villa F.C. vs. Chelsea F.C. kicks off at 18:30 (GMT+1) on Sunday, December 26, at Villa Park.
Preview Aston Villa Premier League, Dec 26, 2021
Preview Earlier in the week, the Premier League board met with several clubs to discuss postponing the next round of fixtures. However, a decision was made to keep going, despite the likes of certain clubs, such as Liverpool, favoring a halt. Having failed to make a Premier League appearance since the 14th of December, Villa are currently in 10th place and are returning after their most recent win over Norwich City: WLWLW. Covid-hit, Steven Gerrard could be lining up fringe players to fill in for injuries and COVID-related absences for this game against Chelsea on Sunday. They've certainly got my trust and my confidence. If I ask any player who has little experience to play, their performance is on me because I've put them in at the deep end, Gerrard said. I'm in a situation where, depending on how it goes in the next two to three days, we might have to call upon players who are on the fringe, or players from the academy, the Villa boss added. Covid-related postponements are only permitted if clubs have fewer than 14 players available, including the goalkeeper. The Lions have appeared with the 4—3—3 ever since Gerrard's arrival. However, depending on player availability, a more defensive-minded formation may be seen from Gerrard. It's changing every hour, it's changing on a daily basis. It's very unpredictable, Gerrard added, speaking about player availability.
Preview Chelsea Premier League, Dec 26, 2021
Preview The Blues are also facing a similar situation with the COVID-outbreak and could be missing as many as eight key players for this fixture against Aston Villa. However, Chelsea boss Thomas Tuchel recently revealed that Callum Hudson-Odoi and the Belgian forward, Romelu Lukaku, have both returned negative tests and will be back in training with the squad ahead of this Sunday's fixture. On Wednesday, a very different-looking Chelsea took on Brentford in the EFL Cup and picked up a 2-0 win over the Bees. In the Premier League, Chelsea remains in 3rd place, six points behind first-placed Manchester City [44 points], while having 38 points from 11W, 5D, and 2L. Chelsea are without a win in two Premier League games WLWDD, and Thomas Tuchel is looking to return to winning ways on Sunday. Fortunately, a huge squad would allow Tuchel to put together a first-team capable of holding their own against Aston Villa as Chelsea looks to close the gap on the top-two. A 3—4—2—1 formation with Mason Mount in attack may be seen from Thomas Tuchel on Boxing Day.