By Content Editor
14 September 2021, 07:33 | 28 August 2021, 13:29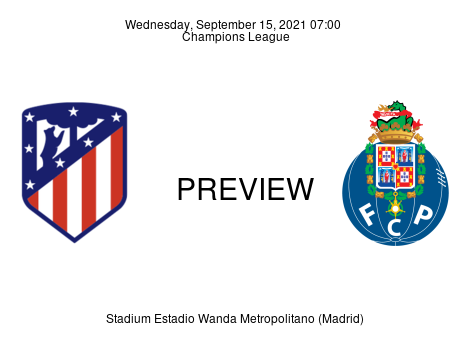 The UEFA Champions League Group B fixture, Atletico de Madrid vs. FC Porto, kicks off at 20:00 (GMT+1) on Wednesday, September 15 at the Estadio Wanda Metropolitano. Referee Ovidiu Haţegan (ROU) will have the luxury of officiating this game while Radu Ghinguleac (ROU) and Sebastian Gheorghe (ROU) will be assisting. Marco Di Bello (ITA) will be the VAR.
Preview Atlético Madrid Champions League, Sep 15, 2021
Preview Spanish champions Atletico Madrid return to the UEFA Champions League after Sunday's La Liga 2-1 victory over Espanyol de Barcelona. The Spanish outfit sits in 3rd place on the La Liga table and has only one defeat in their last five fixtures across all competitions: LWWDW. The club shares Group B with AC Milan, Liverpool, and of course, FC Porto. Being seasoned contestants, this is Atletico's 12th UEFA Champions League group appearance. Diego Simeone will be keen to pick up a point on home soil ahead of the difficult upcoming fixtures against red-hot-form AC Milan, and Liverpool, on Matchday 2 and 3 respectively. Diego Simeone has guided Atletico Madrid to at least the quarter-finals five times in their last eight episodes in the UEFA Champions League. On Wednesday, the 51-year-old could emerge with a 4—3—3 formation featuring Luis Suarez in the middle while flanked on the right by Antoine Griezmann, and on the left by Angel Correa. The latter has been in remarkable form for the Spanish side, bagging three goals in four league appearances while contributing to 57% of all the episodes that have led to a goal for ATM in the league this season. Simeone has a fully fit squad ahead of this fixture against FC Porto.
Preview Porto Champions League, Sep 15, 2021
Preview Meanwhile, FC Porto remain unbeaten in five games across all competitions: WWDWD. The Portuguese outfit sit in 4th place in the Primeira Liga, having picked up a 1-1 draw against Sporting CP over the weekend. Manager, Sérgio Conceição will be in the run for at least a point against Atletico Madrid considering the difficult task ahead over the next few weeks. This will be FC Porto's 25th UEFA Champions League group appearance, a record only bested by Real Madrid and Barcelona (both having 26). FC Porto have reached the round-of-16 in their last four appearances in the UEFA Champions League. On Wednesday, Sérgio Conceição could line up the 4—2—3—1 formation with Toni Martínez at the top of the shape. Martínez has three goals for the club in the domestic league and promises to be Atletico Madrid's biggest threat. The club could be without Marko Grujic, who is currently sidelined with a muscular injury.