By Content Editor
24 December 2021, 16:34 | 28 August 2021, 15:29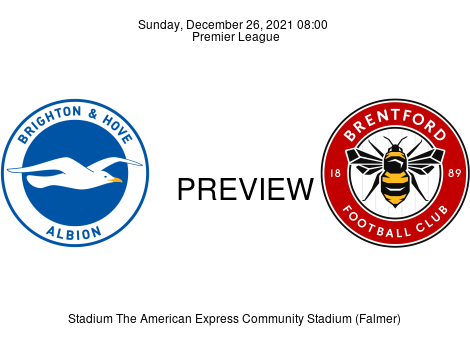 Tied on points, the Seagulls take on the Bees on Boxing Day in this Premier League mid-table clash. Brighton & Hove Albion vs. Brentford FC kicks off at 21:00 (GMT+1) on Sunday, December 26, at AMEX.
Preview Brighton & Hove Albion Premier League, Dec 26, 2021
Preview Without a win in 11 Premier League games, with five of them in focus: LDDDL, Brighton returns after failing to take part in any Premier League action over the last 10 days. The Seagulls had their fixture against Tottenham, previously scheduled for Sunday, December 12, postponed before seeing the game against the Red Devils [Saturday, December 18] shelved for a later date. Having failed to play, Brighton slipped to 13th place on the Premier League table, having 20 points from 4W, 8D, and 4L. Brighton [G.D. of -3] sits below 12th-placed Brentford [G.D. of -1] based on goal difference, and a rare victory here would see the Seagulls trade places with the Bees. However, the Seagulls have not picked up a win since September, when they defeated Leicester City 2-1. This league can challenge you and you can go sometimes without a win for a while, Graham Potter said ahead of this fixture against Brentford. It's not ideal, we don't like it, we'd have preferred it if we'd had a few more Ws recently, Potter added. Potter went about with the 4—3—3 formation for the game against Wolves, but picked up a loss, 1-0. The revert to a more familiar 3—5—2 is expected with the duo consisting of Neal Maupay and Leandro Trossard in attack. Danny Welbeck is expected to make the comeback, while Joel Veltman will be evaluated prior to the game. Meanwhile, Yves Bissouma is suspended for this Boxing Day fixture.
Preview Brentford Premier League, Dec 26, 2021
Preview Brentford also had two Premier League fixtures postponed, - against Manchester United [Tuesday, December 14] and Southampton [Saturday, December 18]. However, on Wednesday, the Bees crashed out of the EFL Cup, having lost to Chelsea 2-0 in the quarter-final. Back in the Premier League, Brentford slipped to 12th place having failed to take part in the last round of league fixtures. The Bees have picked up 20 points from 5W, 5D, & 6L, and will be returning with the form: DWLDW. A victory for Brentford at Brighton could see them sit inside the top ten at the end of the year. Eleventh-placed Crystal Palace have a difficult fixture against Tottenham, while tenth-placed Aston Villa take on Chelsea. Thomas Frank and the Bees will return with the 3—5—2 formation. In attack, Bryan Mbeumo is expected to play alongside Ivan Toney, who is poised to make a return to the starting line-up. The Bees could have as many as eight players unavailable for this fixture against Brighton.