By Content Editor
24 December 2021, 16:36 | 28 August 2021, 15:29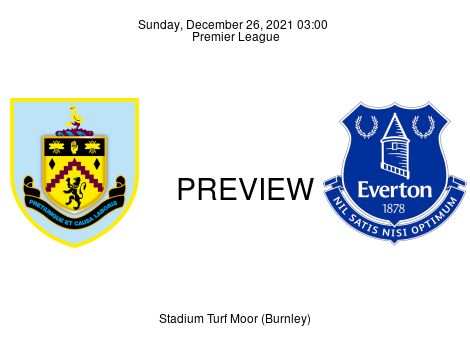 Having had two Premier League fixtures postponed, the Clarets are back for this Boxing Day fixture against the Toffees, hoping to finish the year outside the relegation zone. The Premier League fixture, Burnley FC vs. Everton FC, kicks off at 16:00 (GMT+1) on Sunday, December 26, at Turf Moor.
Preview Burnley Premier League, Dec 26, 2021
Preview Burnley had their fixture against Watford, previously scheduled for Wednesday, December 15, postponed along with the game against Aston Villa [previously scheduled for Saturday, December 18]. The club is without a win in five Premier League games: DDDLD, and is set to make a comeback following the goalless draw against West Ham. In 18th place with 11 points from 1W, 8D, and 6L, Sean Dyche aims to seize this opportunity to navigate the Clarets out of relegation waters. Seventeenth-placed Watford [13 points] had their Boxing Day fixture against Wolverhampton Wanderers rescheduled to a later date, hence a win here would see Burnley swap places with the Hornets. A 4—4—2 formation with Chris Wood and Jay Rodriguez is expected from Sean Dyche for this game against Everton. Maxwel Cornet remains doubtful alongside Ashley Barnes and Connor Roberts (COVID-19).
Preview Everton Premier League, Dec 26, 2021
Preview Meanwhile, Rafael Benitez remains surprised that this fixture against Burnley will go ahead despite being left with just nine senior outfield players due to a COVID-19 outbreak at the club. Everton had put in an official request to have this fixture postponed, but the appeal fell on deaf ears. With the injuries and the positives [COVID-19], we were expecting that the game would be postponed, Benitez said. Now I have to think about if I have 11 players fit and where can I put them, so I am really surprised that we are playing this game, the Everton Boss added. The problem is [that] we have nine outfield players available, plus three keepers, and we have to bring in five young players who are not even 21 years old. It seems that they have enough experience to play in the Premier League, Benitez included. Everton is in 14th place on the Premier League table, having picked up 19 points from 5W, 4D, and 8L. The Toffees have picked up only one victory in the last five Premier League games: LLWLD. Last time out, Rafael Benitez scraped out a point in the game against Chelsea, having gone with a defensive 5—4—1 formation against the Blues. For this match against the Clarets, a return to the 4—1—4—1 formation is expected. I'm happy to see Dominic [Calvert Lewin] training with the team, Benitez said. My main job now is to find 11 players in the right positions that they can compete against Burnley. It's not easy, he added.