By Content Editor
27 December 2021, 15:37 | 28 August 2021, 15:29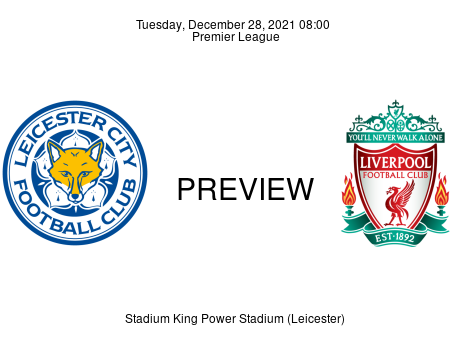 The Foxes make their return, barely 48 hours after a disappointing 6-3 defeat to the Cityzens on Boxing Day, hoping to return to winning ways against the Reds. Leicester City vs. Liverpool FC kicks off at 21:00 (GMT+1) on Tuesday, December 28, at the King Power Stadium.
Preview Leicester City Premier League, Dec 28, 2021
Preview Leicester City found themselves with a four-goal deficit in less than half-an-hour in the game against Manchester City after goals from Kevin De Bruyne (5'), Riyad Mahrez (14' P.), Gundogan (21'), and Raheem Sterling (25' P.) hit the back of the net. However, the Foxes fought back in the first few minutes of the second forty-five, reducing the deficit to just one goal. Goals from James Maddison (55'), Ademola Lookman (59'), and Kelechi Iheanacho (66'), saw Leicester City back in the game. But the wheels of fortune would spin in favor of the opposition once again. Aymeric Laporte (69') put some sky-blue water between both sides, before Raheem Sterling (87') bagged the brace and condemned Leicester City to their second defeat in five games: WDLWL. It was a difficult start to the game for us, Brendan Rodgers said in his post-match interview. Really disappointed with the penalty, really soft, so that was frustrating. We came in at half-time, the scoreline for me didn't reflect the game, the Leicester City boss added. The Foxes slipped to 10th place, having failed to pick up a point on Boxing Day, and are left with 22 points from 6W, 4D, and 7L. Jamie Vardy was left on the bench for the entire length of the game against Manchester City but is expected to return to the starting line-up for this one against Liverpool. A 4—4—1—1 formation with the 34-year-old and Kelechi Iheanacho in attack is anticipated for this fixture against the Reds.
Preview Liverpool Premier League, Dec 28, 2021
Preview Liverpool will be returning with fresh legs, having failed to take part in Boxing Day Premier League action. The Reds had their fixture against Leeds postponed due to an outbreak of COVID at the club. Having failed to play, second-placed Liverpool saw the margin between themselves and first-placed Manchester City [47 points] extended to six points, while title rivals, the Blues [41 points], also zeroed in on the Reds, who have 41 points from 12W, 5D, and 1L. Liverpool are unbeaten in the last five Premier League games: WWWWD, and Jurgen Klopp aims to keep the red patch of unbeaten run intact at the end of this Tuesday's fixture against Leicester City. The 4—3—3 with Mane, Salah, and Diogo Jota is expected once again. The trio have 32 goals shared among themselves, two more than Leicester City's total goal haul of 30.