By Content Editor
14 September 2021, 07:34 | 28 August 2021, 13:29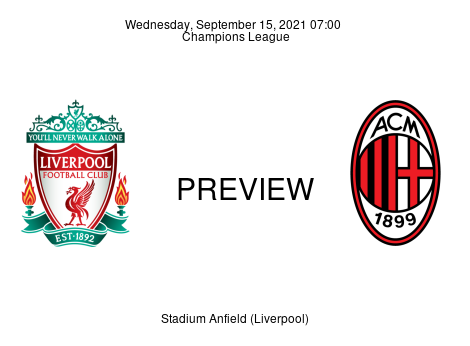 The UEFA Champions League Group B fixture, Liverpool F.C. vs. AC Milan, kicks off at 20:00 (GMT+1) on Wednesday, September 15 at Anfield. Referee Szymon Marciniak (POL) will be the first official while Paweł Sokolnicki (POL) and Tomasz Listkiewicz (POL) will be the assistants. Tomasz Musiał, also from Poland will be the VAR.
Preview Liverpool Champions League, Sep 15, 2021
Preview Six-time UEFA Champions League winner, Liverpool, will re-ignite their European rivalry with AC Milan after the 3-0 win over Leeds United in Sunday's Premier League fixture. Surprisingly, this is only the 3rd episode of their meeting in European top-flight football. In the mid-2000's, both sides met in the finals, - in 2005 & 2007, and picked up a victory apiece. This will be Liverpool's fifth consecutive appearance in the UEFA Champions League and the Reds make the entry unbeaten in five games across all competitions: WWWDW. On Wednesday, Klopp would like to replicate that fine form in the UEFA Champions League and pick up his first three points. The attacking 4—3—3 formation with Mane and Salah playing on the flanks could be seen yet again, while Diogo Jota is expected in the middle. Liverpool centre-backs, most likely, Matip and Virgil van Dijk will be saddled with the responsibility of keeping Zlatan quiet throughout the length of the game. The 39-year-old picked up a goal over the weekend in his first game for Milan this season. Meanwhile, Trent Alexander-Arnold could get caught out while pushing forward, leaving Theo Hernandez with the space to run towards the Liverpool defense. He will have an eye on the Milan left-back who earned his first international call up for France in the just concluded international break. On availability, Firmino remains doubtful after limping off with a hamstring injury in Liverpool's game against Chelsea. Looking ahead, Liverpool will face F.C. Porto at the Estádio do Dragão on Matchday 2, Sept 28.
Preview Milan Champions League, Sep 15, 2021
Preview After a seven-year absence, seven-time UEFA Champions League winner, AC Milan, returns to the star-studded circle of champions following Sunday's 2-0 win over Lazio. This is Milan's 18th appearance in the UEFA Champions League. In the last episode of their European campaign, - back in 2014, Milan were dumped out after an aggregate 5-1 defeat to Atletico Madrid in the round-of-16. On Matchday 2, I Rossoneri will have the opportunity to take their pound of flesh from the Spanish champions when they welcome the Madrid-based side to the San Siro. Milan are 2nd in Serie A and remain unbeaten in five games across all competitions: DWWWW. This will be Pioli's UEFA Champions League debut with the club and a win would see him start on a flying note. An attacking shape fashioned in a 4—2—3—1 formation looks like it for the 55-year-old. Following the return of Zlatan Ibrahimovic to the squad, Stefano Pioli will have several attacking options at his disposal on Matchday 1. Frank Kessie also made a return to the squad over the weekend.