By Content Editor
28 December 2021, 13:31 | 28 August 2021, 15:29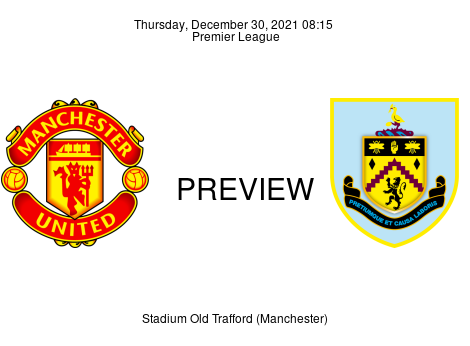 Having escaped with a Cavani-made possible 1-1 draw against the Magpies, the Red Devils return for another round of Premier League action, hoping to pick up three points and move across the Premier League table. Manchester United vs. Burnley FC kicks off at 21:15 (GMT+1) on Thursday, December 30, at Old Trafford.
Preview Manchester United Premier League, Dec 30, 2021
Preview Lackluster, Manchester United secured a point against Newcastle United on Monday at St. James' Park thanks to a rare goal from the second-half substitute, Edinson Cavani (71'). Allan Saint-Maximin (7') went one way, and then the other, beating two before managing to poke the ball away on the stretch for the opener inside the first ten minutes. Stunned, David de Gea remained rooted to the spot as he watched the ball hit the back of the net. Forget about the star-studded side in red, the best players on the pitch were in white-and-black stripes. Panic-stricken, Ralf Rangnick made two changes at half-time, introducing Cavani and Mason Greenwood for the second forty-five. The Red Devils were let off the hook, minutes into the second half after Allan Saint-Maximin failed to find the proper connection inside the six-yard box. Minutes later, Cavani salvaged a point for the Red Devils. I did not like it at all. We were trying to get better at controlling games, a disappointed Ralf Rangnick said in his post-match interview with Sky Sports. In the end, we got a point, and that is a good thing. But the overall performance has to get better, Rangnick added. The draw leaves Manchester United in 7th place. The Red Devils remain unbeaten in five Premier League games, DWWWD, while having 28 points from 8W, 4D, & 5L. The infamous 4—2—2—2 formation appears to be under scrutiny after United toiled to a point against the Magpies. However, it is expected to remain in place. Judging on paper, it should be three easy points for United, but Burnley could draw inspiration from Newcastle's spirited Monday performance.
Preview Burnley Premier League, Dec 30, 2021
Preview Match-rusty Burnley will be making a return after 18 days without taking part in any Premier League action, having last played on the 12th of December [vs. West Ham, 0-0]. The Clarets remain in 18th place on the Premier League table, with 11 points from 1W, 8D, and 6L. Burnley are without a win in five league games: DDDLD, ahead of this fixture against Manchester United. Sean Dyche aims for a rare victory to see his side make the jump away from the red zone, should 17th-placed Watford fail to pick up a point against West Ham, later today [Tuesday]. A 4—4—2 formation with Chris Wood and Jay Rodriguez is expected from Sean Dyche for this game against the Red Devils. Maxwel Cornet remains doubtful alongside Ashley Barnes and Connor Roberts (COVID-19).