By Content Editor
04 January 2022, 15:49 | 28 August 2021, 15:29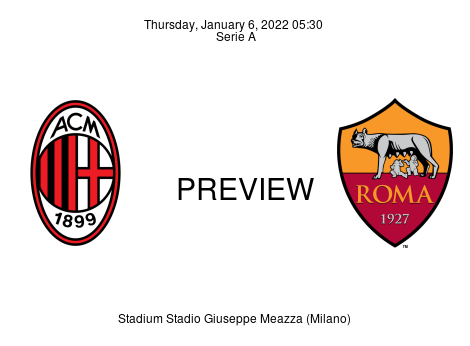 The Rossoneri are back for their debut game in the new year, hoping to snatch three points and remain within touching distance of the Well-Cherished One, following the comfortable win over the Blues in December last year. AC Milan vs. AS Roma kicks off at 18:30 (GMT+1) on Thursday, January 6, at the San Siro.
Preview Milan Serie A, Jan 6, 2022
Preview AC Milan picked up a 4-2 win over Empoli in their last game of the 2021 calendar, at the Stadio Carlo Castellani. A brace from contract rebel, Franck Kessie (12' & 42'), coupled with a goal from Theo Hernandez (69'), and another, from a set-piece by Alessandro Florenzi (63'), was enough to settle the contest of ninety minutes. The results saw Milan return to winning ways, following two games without a victory, WWDLW. Having bagged three points, Milan reclaimed lost ground, moving from 3rd to 2nd place on the Serie A table. The club has 42 points from 13W, 3D, & 3L. Stefano Pioli's 4—2—3—1 could see Zlatan return to the starting line-up to lead Milan's attack for this fixture against Roma. The Swede recently returned to training along with Rafael Leão and is expected to be fit enough from the get-go. Already active in the January transfer window, Milan are in search of a suitable replacement for Simon Kjær, who has been ruled out of the season following an ACL injury. According to recent reports, Milan has put in a €20M bid for Lille's center-back Sven Botman. However, it appears both parties are far apart in terms of valuation, as the French champions are said to have slapped a €70M price tag on the 21-year-old. Earlier in the week, the club announced that the second-choice goalkeeper, Ciprian Tătăruşanu tested positive for COVID-19. Tătăruşanu joins 31 other players who recently tested positive for COVID-19 following the Christmas break.
Preview Roma Serie A, Jan 6, 2022
Preview Roma earned a point in their final game before the Christmas break following a 1-1 draw against Sampdoria. A spirited effort from Eldor Shomurodov (72') saw Roma establish the lead, minutes into the second forty-five. However, Gabbiadini (80') found the equalizer eight minutes later. The draw saw Roma drop one spot from 5th to 6th place on the Serie A table, having picked up 32 points from 10W, 2D, & 7L. Roma have picked up 1.4 points per game in the last five Serie A games: LLWWD ahead of this fixture against AC Milan, and the Special One aims to return to winning ways. José Mourinho and I Giallorossi could appear with the 3—1—4—2 formation, having Zaniolo and Tammy Abraham in attack. As reported by La Gazzetta dello Sport, Tammy Abraham crashed his Porsche Cayenne into another car on his way to Roma's training ground in Trigoria on Monday. However, the center-forward escaped unhurt and is expected to get the nod for a start on Thursday.