By Content Editor
01 October 2021, 08:30 | 28 August 2021, 13:29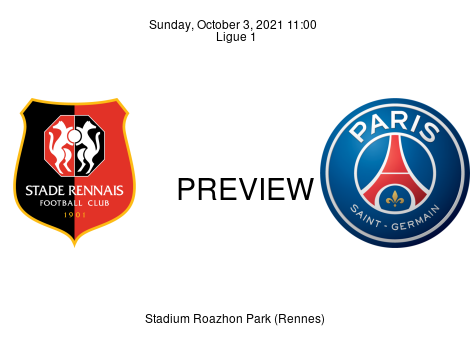 The French Ligue 1 fixture, Stade de Rennais F.C. vs. Paris Saint-Germain, kicks off at 12:00 (GMT+1) on Sunday, October 3 at Roazhon Park.
Preview Rennes Ligue 1, Oct 3, 2021
Preview Not left out of European football action, Rennes defeated SBV Vitesse, 2-1 in Thursday's UEFA Europa Conference League despite finishing with ten men. Last weekend, Rennes picked up a 1-1 draw against Bordeaux at the Nouveau Stade de Bordeaux. The draw was the third in the string of results for the home side: 2W, 3D, & 3L. Having only one victory in their last five games: LLLWD, manager Bruno Génésio is aware that picking up another on Sunday presents a difficult challenge, considering the resources at PSG's disposal. Génésio has a 45% win after leading Rennes to 10 victories in 22 appearances across all competitions: 10W, 6D, and 6L. On Sunday, he will try to avoid defeat on home soil to keep the numbers looking good enough for possible future employers. In 13th place with 9 points, a focus on the performance on both ends of the pitch leaves us with the figures, 10 goals, and an average of 1.25 goals scored per game. The club has a G.D. of +1 after conceding nine times (1.12 g.c.p.g) in eight appearances. Bruno Génésio's probable 4—4—2 formation could see Serhou Guirassy and Gaëtan Laborde forming the two-pronged attack once again. On availability, Jérémy Doku could make his return to the squad ahead of this fixture while Jérémy Gélin is ruled out from this Sunday's game against PSG.
Preview Paris Saint Germain Ligue 1, Oct 3, 2021
Preview PSG will make their return to Ligue 1 action after the famous 2-0 win over Manchester City in Tuesday's UEFA Champions League fixture. Lionel Messi's 74th-minute strike put the game to bed at the expense of the English visitors after the ninety-minute star-studded contest of champions. With the likes of Lille, Monaco, and Lyon all struggling to find their feet, PSG continued its domestic dominance in Ligue 1, putting Montpellier aside in a 2-0 win on home soil last weekend. The 100%-winning start leaves PSG with 24 points after 8W, 0D, & 0L and with a blue patch of victories: WWWWW ahead of Sunday's game against Rennes. With an impressive haul of 22 goals, PSG remains the highest scoring side in the league with an average of 2.75 goals scored per game. Les Parisiens remain the second-side with the fewest conceded goals in the league, with 7, alongside SCO Angers, after eight games. An average of 0.88 goals-conceded-per-match. The impressive figures leave PSG with a G.D. of +15. Mauricio Pochettino's probable 4—3—3 formation could see Mbappe, Neymar, and Messi forming the attack of three once again. A fully fit squad awaits Pochettino ahead of this fixture.