By Content Editor
18 December 2021, 16:47 | 28 August 2021, 15:29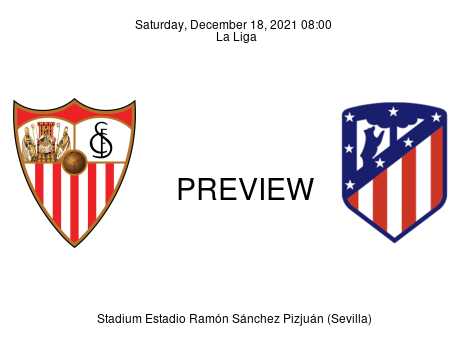 The Spanish LaLiga fixture, Sevilla FC vs. Atlético de Madrid kicks off at 21:00 (GMT+1) on Saturday, December 18, at the Estadio Ramón Sánchez Pizjuán.
Preview Sevilla La Liga, Dec 18, 2021
Preview Sevilla are coming off the back of a narrow win over Athletic Club, having defeated the latter by a lone goal last weekend. Sevilla converted their only shot on target after 6 attempts to hit the back of the net for the win. With the victory, Sevilla remained in second place, 8 points behind first-placed Real Madrid. The club has picked up 2 points per game in the last five games, totaling 10 points from a possible 15: WDLWW. In total, the club has amassed 34 points from 10W, 4D, and 2L. Julen Lopetegui's pre-match press conference on the eve of the visit of Atlético de Madrid saw the 55-year-old acknowledge the opposition's quality. We're looking forward to facing the LaLiga champions. They're an impressive team with top-class players in every position, the Sevilla boss said. We obviously need all our energy to be able to face them. From then on, we'll see. We have to wait from today [Friday] until tomorrow to make decisions regarding the squad, Julen Lopetegui added. His side's numbers have been impressive over the course of the season. Sevilla has a goal ratio of 1.62 g.p.g., having scored 26 goals in 16 La Liga games. They have also conceded 11 goals (0.69 goals conceded per game) and have a goal difference of +15. A 4—2—3—1 formation with Rafa Mir at the top of the shape is expected for this fixture against Atlético Madrid on Saturday. Lopetegui also spoke about injuries ahead of the game. En-Nesyri completed part of the training session alongside Lucas and Marcos, he said during the media briefing. We'll hope they get the all-clear, he added. Meanwhile, Fernando Reges is suspended for this fixture.
Preview Atlético Madrid La Liga, Dec 18, 2021
Preview Following a 2-0 loss to Real Madrid at the Santiago Bernabéu last Sunday, Atlético Madrid remains in fourth place. None other than Karim Benzema (16') hit the back of the net for a Madrid lead inside the first twenty minutes. A remarkable volley to mark his return from a spell on the sidelines. A well-executed counterattack from the Whites sent Atlético Madrid shirts racing for cover minutes after the break. However, little could be done to prevent Marco Asensio (57') from finding the bottom corner as ATM found themselves with a two-goal deficit. Atlético Madrid has 29 points from 8W, 5D, and 3L and will be returning with back-to-back defeats: DWWLL. In a bid to reclaim lost ground, Diego Simeone is looking to return to winning ways. He could appear with the 3—5—2 formation, leaving Suarez and Matheus Cunha in attack. Meanwhile, Antoine Griezmann is ruled out of this fixture.