By Content Editor
14 September 2021, 07:32 | 28 August 2021, 13:29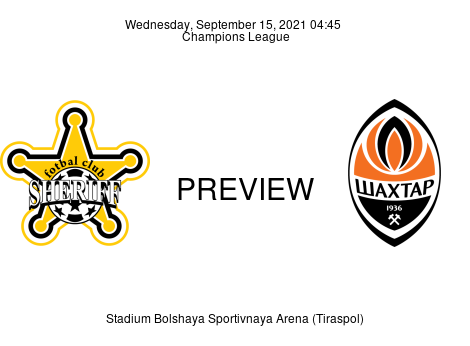 The UEFA Champions League Group D fixture, F.C. Sheriff Tiraspol vs. Shakhtar Donetsk, kicks off at 17:45 (GMT+1) on Wednesday, September 15 at the Bolshaya Sportivnaya Arena. Deniz Aytekin (GER) will be the referee for this fixture, while Christian Dietz (GER) and Stefan Lupp (GER) will be assisting with the task. Christian Dingert (GER) will be the VAR.
Preview Sheriff Champions League, Sep 15, 2021
Preview The UEFA Champions League debutants, FC Sheriff Tiraspol, penned their name in the annals of history as the first Moldovan side to ever play in the tournament. Sheriff makes its historic entry into the UEFA Champions League after Sunday's 2-0 victory over Petrocub in the Moldovan National Division. The club sits in the mid-table position in a league of eight, currently occupying 4th place after playing only five games. FC Sheriff Tiraspol remain unbeaten in five games across all competitions: WWDWW. The Moldovan outfit share Group D with Inter Milan, Real Madrid and Shakhtar Donetsk. Manager, Yuriy Vernydub will aim for nothing less than a win, considering the difficult fixtures ahead on Matchday 2 & 3 when the club takes on Real Madrid and Inter Milan, respectively. The 55-year-old could line up with the 4—2—3—1 formation, having Momo Yansane at the top of the shape. The 24-year-old has scored four goals in as many appearances in the domestic league and remains the club's top scorer. With the exception of Moussa Kyabou, who appears to be unfit for this game against Donetsk, Yuriy Vernydub will have a fully fit squad available ahead of UCL Matchday 1.
Preview Shakhtar Donetsk Champions League, Sep 15, 2021
Preview Meanwhile, Ukrainian outfit, Shakhtar Donetsk, are also unbeaten in five games across all competitions: WWDDW. Seasoned contestants, they make their entry into the contest of champions having brushed aside Dnipro-1 in Saturday's Ukrainian Premier League win. Donetsk are in 2nd place on the league table. This will be the 16th appearance for the Kyiv-based side. Coach Roberto De Zerbi, having guided his side to the group stage of the UEFA Champions League through play-offs, hopes the wheels of fortune will be kind this time around. Donetsk, has been eliminated at the group stage on 11 of the previous 15 occasions. Those numbers include the last three in the tournament. On Wednesday, he is expected to emerge alongside the Ukrainian side, with the 4—2—3—1 formation with the Brazilian centre-forward, Fernando, returning to the bench while Lassina Traoré gets the start. The latter has bagged five goals for Donetsk in the Ukrainian Premier League. Traoré has also contributed to 35% of all episodes that have led to a goal for his side in the league. Goalkeeper Anatoliy Trubin remains in doubt for this fixture due to a knee injury.