By Content Editor
18 December 2021, 16:34 | 28 August 2021, 15:29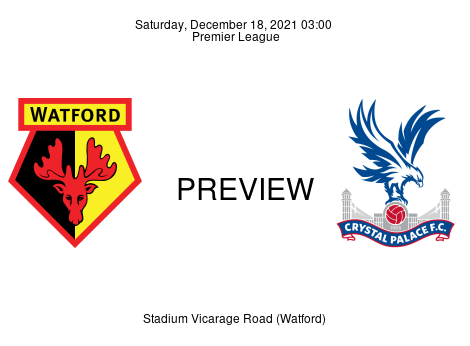 Having had the mid-week game against the Clarets postponed, the Hornets return for this weekend's Premier League fixture against the Eagles, hoping to distance themselves from the bottom three. Watford F.C. vs. Crystal Palace F.C. kicks off at 16:00 (GMT+1) on Saturday, December 18, at Vicarage Road.
Preview Watford Premier League, Dec 18, 2021
Preview It is with regret that the Premier League Board has postponed Burnley FC's home fixture against Watford FC, due to be played this evening (Wednesday, December 15) at 7.30 pm, an official statement from the Premier League read. The decision was taken following guidance from medical advisers due to an ongoing COVID-19 outbreak within Watford's squad. As a result, the club has an insufficient number of First Team players available to fulfill the match. The Premier League understands this decision will disappoint and frustrate fans who were due to attend this evening's game and apologises for the inconvenience and disruption caused at such short notice, the statement continued. Watford will be coming off four straight defeats, WLLLL, but despite not playing over the week, they remain in 17th place. The Hornets are left with 13 points from 4W, 1D, and 11L. Claudio Ranieri attempted to fortify his team ahead of the now-rescheduled midweek match against Burnley. I tell all my players every time that we play to win, but it's also important that they don't lose, Claudio Ranieri said. Every match you don't know what is going to happen, so you have to fight to win. We have to be like ice men on the pitch, he added. For this game against Crystal Palace, Ranieri could go with a 4—2—3—1 formation, with the in-form Nigerian Emmanuel Bonaventure in attack.
Preview Crystal Palace Premier League, Dec 18, 2021
Preview