By Content Editor
18 December 2021, 16:37 | 28 August 2021, 15:29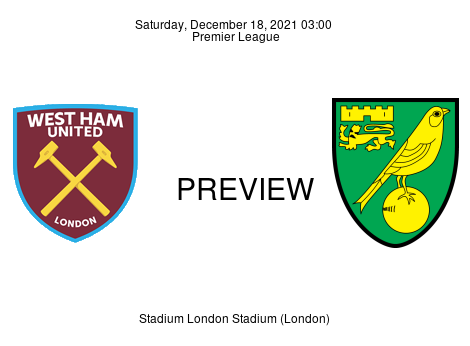 The Premier League fixture between West Ham United and Norwich City, previously scheduled for this Saturday, December 18, at the London Stadium, has been postponed. A new date for the fixture will be announced in due course.
Preview West Ham United Premier League, Dec 18, 2021
Preview West Ham United can confirm that Saturday's match against Norwich City at London Stadium will not go ahead as planned after the Premier League granted a request from Norwich to postpone the fixture. A statement from the club's website [West Ham] read. Due to COVID-19, injuries, and other illnesses, Norwich City had an insufficient number of players available to fulfill their match. The Board assesses applications to postpone matches on a case-by-case basis, based on existing rules and COVID-19 postponement guidance issued to all clubs, the statement continued. It will assess a number of factors, including the ability of a club to field a team; the status, severity, and potential impact of the COVID-19 outbreak at the club. And the ability of the players to safely prepare for and play the match. The Board must also consider the wider risks to the opposition and other people the club representatives may come into contact with. With the health and wellbeing of all players and staff the priority, and in light of the recent rise in COVID-19 cases across the country, the Premier League has reintroduced Emergency Measures. These include protocols such as more frequent testing, wearing face coverings while indoors, observing social distancing, and limiting treatment time, the statement concluded. Looking ahead, West Ham takes on Southampton for their next Premier League game on Sunday, December 26.
Preview Norwich City Premier League, Dec 18, 2021
Preview Norwich City have as many as 10 players unavailable due to the COVID outbreak and a number of other afflictions in their squad. Before the generous gesture towards the Canaries, Norwich boss Dean Smith was asking the questions, seeking clarity from the Premier League on COVID guidelines. Our sporting director (Stuart Webber) spoke to the Premier League on guidance when we have symptomatic players around us, Dean Smith said after the defeat to his former team, Aston Villa. We played Tottenham; they had an outbreak. We played Man United, they had an outbreak. We wanted guidance over would it be fair on Villa if we had symptomatic players around us. I am not saying all our players are symptomatic and have COVID because some are injured, Smith continued. Grant (Hanley) did his shoulder on Saturday and Ozan Kabak went down, so we have injured players, but we probably need a magic number telling us how many is enough, Smith had said. Norwich will be looking at regrouping ahead of their next Premier League game, against Arsenal, scheduled for Sunday, December 26.