By Content Editor
24 December 2021, 16:42 | 28 August 2021, 15:29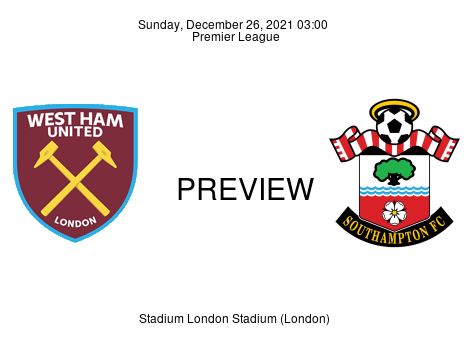 Having lost to Spurs, 2-1, in the EFL Cup quarter-final, the Hammers are back in the Premier League, hoping to iron out three points from the Saints. The game, West Ham United vs. Southampton FC, kicks off at 16:00 (GMT+1) on Sunday, December 26, at the London Stadium.
Preview West Ham United Premier League, Dec 26, 2021
Preview West Ham saw their game against Norwich City, previously scheduled for Saturday, December 18, postponed and now return behind the 2-0 Premier League loss to Arsenal: LDWDL. Having failed to take part in the last round of Premier League action, the club slipped from 4th to 5th place on the table, having 28 points after 8W, 4D, and 5L. Despite that recent dip in form, West Ham go into Christmas inside the top five for the first time since the 2014/15 season, when Sam Allardyce was at the helm. David Moyes aims to give the Claret & Blue Army a gift in the shape of three points when his side takes on the Saints on Boxing Day. We know we have to win the games, the West Ham boss said. We're not going to finish high up if we don't win the games. We've got ourselves into a really strong position – probably a stronger position than we were at this time last season – so from that point of view, we see it as a positive, Moyes added. A 4—2—3—1 formation with Michail Antonio (doubtful [COVID]) in attack is expected from David Moyes for this fixture against Southampton.
Preview Southampton Premier League, Dec 26, 2021
Preview Southampton had their fixture against Brentford, previously scheduled for Saturday, December 18, postponed. And having also failed to take part in any Premier League action over the last week, the Saints remain in 15th place, with 17 points from 3W, 8D, and 6L. The club is without a win in five games: LDDLD ahead of this fixture against West Ham. A rare victory here could see Southampton stop the downward trend, but a defeat would see the Saints slip a few more spots down the Premier League table. Ralph Hasenhüttl spoke about the opposition ahead of Sunday's game. They are consistently on a high level, hard to beat, defensively well organised, and offensively with a lot of quality on the pitch. And when you see the development in the past years, it's amazing, the Southampton boss said. For this game against West Ham, the 54-year-old and the Saints could appear in the 4—4—2 formation, leaving Nathan Tella and Armando Broja in attack. Armando Broja has scored four goals in six Premier League starts, making him the club's top goal scorer this season.