By Content Editor
13 September 2021, 07:14 | 28 August 2021, 13:29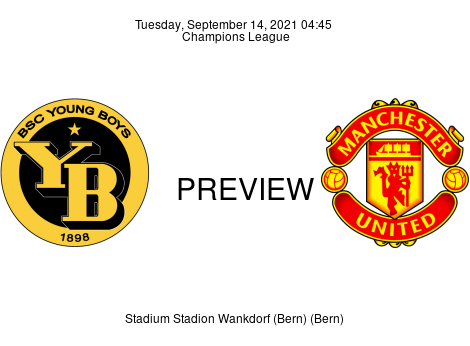 The UEFA Champions League returns with the UCL Group F fixture, BSC Young Boys vs. Manchester United, coming under focus at 17:45 (GMT+1) on Tuesday, September 14 at the Stade de Suisse. This will be the 67th season of Europe's most prestigious tournament and the 30th edition since its rebranding as the iconic UEFA Champions League. Furthermore, it is the first episode since 1965 to abolish the away goal rule. The rule now runs counter to its original purpose as, in fact, it now dissuades home teams – especially in first legs – from attacking, said UEFA President, Aleksander Čeferin.
Preview Young Boys Champions League, Sep 14, 2021
Preview On Tuesday, hosts BSC Young Boys will have every reason to attack the three-time UEFA Champions League winner, Manchester United, as they search for their first few points in Group F. Young Boys share the group with Atalanta, Villarreal and, of course, Manchester United. BSC Young Boys are 3rd in the Swiss Super League. The club makes an entry into this contest of Champions unbeaten across all competitions: WWWDW. On Saturday, they picked FC Zurich apart in a 4-0 win on home soil. Manager David Wagner hopes the wheels of fortune will spin in his favor on Tuesday, knowing his side's poor history against United. In the qualifying round against Ferencvaros, he selected a conventional 4—4—2 formation with a forked attack consisting of Meschack Elia and Theoson Siebatcheu. A similar shape with the same personnel is expected on Tuesday. While Young Boys need no introduction to Cristiano Ronaldo, the new and fledgling partnership between Maguire and Varane could present a ripe opportunity for the duo of Siebatcheu and Meschack Elia to exploit.
Preview Manchester United Champions League, Sep 14, 2021
Preview After the recent statement of intent with the re-acquisition of Cristiano Ronaldo, it remains evident that Ole and the Red Devils have set their sights on the big ears. Cristiano Ronaldo bagged a brace on his second debut with Manchester United on Saturday against Newcastle to inspire a 4-1 win over the Magpies. He returns to the Champions League in United's colours as the tournament's top-scorer, having netted an impressive haul of 134 goals in 176 appearances. Fifteen of them were coloured red, 105, white, while 14 of them were for the Old Lady. The Red Devils return to the UEFA Champions League unbeaten across all competitions: WWDWW. Facing familiar foes, United should have little trouble sending the Swiss side on their way. Ole Gunnar Solskjær named a 25-man squad for the tournament along with a B list in the event of injuries or other unforeseen circumstances. On Tuesday, he is expected to utilize the familiar 4—2—3—1 formation with Ronaldo at the top of the design. The Portuguese ace will be in the hunt for his 16th UCL goal for the Red Devils. Manchester United will have to keep an eye on Theoson Siebatcheu, who bagged a total of 3 goals in 6 appearances in the UEFA Champions League qualifying round. Coupled with 3 goals in 5 domestic appearances, he remains the club's joint top-scorer alongside Meschack Elia. On availability, Marcus Rashford is ruled out of this fixture alongside Alex Telles. Goalkeeper Dean Henderson is also in doubt.